Thai quinoa salad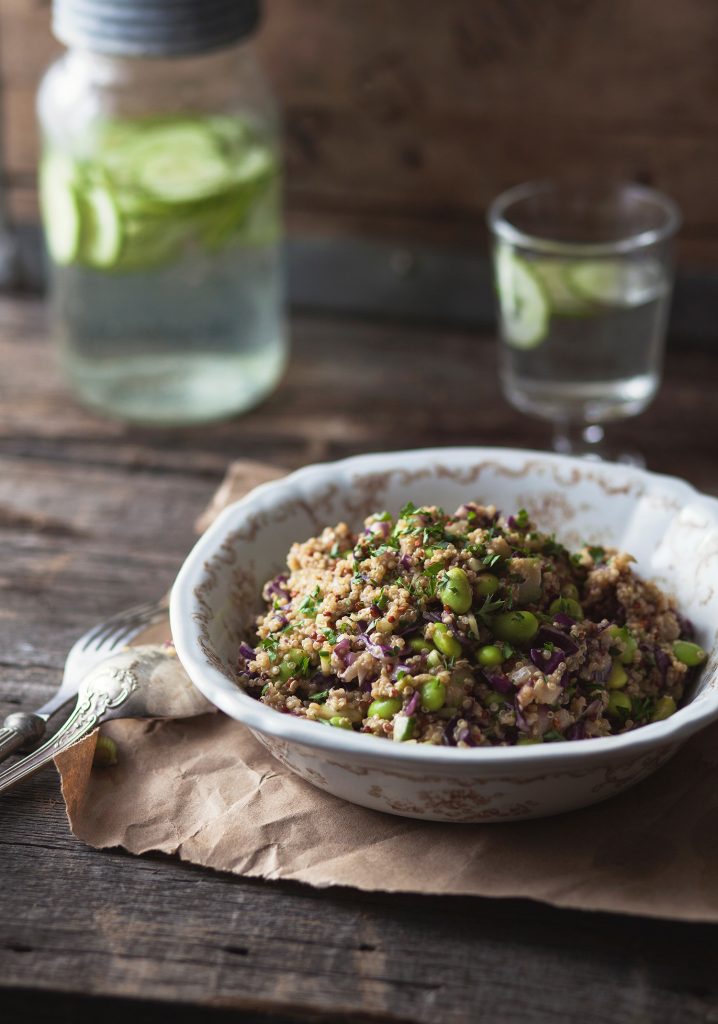 It's no secret: I love quinoa. Contrary to popular belief, it's not a grain, but the seed of a plant in the same family as beets and spinach. Quinoa is gluten-free and made up of 70% carbohydrates, 15% protein, fibre, minerals, and almost no fat.
Raw quinoa is coated with saponin, which gives it a bitter taste. That's why you need to rinse quinoa thoroughly before cooking it. You'll know it's properly rinsed when it stops foaming under running water.
Bon appétit!
Particularities
Serves

Serves 4–6

Prep time

15 min

Cook time

20 min

Timeout

-
Ingredients
1 cup quinoa, rinsed and drained (I like to use a mix of two colours)

2 cups water

1/4 cup fresh cilantro, chopped

1/4 cup green onion, chopped

1/4 cup cucumber, finely diced

1/4 cup red onion, minced

1/2 cup edamame (found in the frozen foods aisle)

1 cup red cabbage, chopped
For the dressing
1/4 cup soy butter

1/2 tablespoon ginger, freshly grated (sometimes I use more)

1 clove garlic, finely chopped

1 tablespoon soy sauce

Juice of 1/2 lemon

1 teaspoon toasted sesame oil

1 teaspoon honey

1/4 cup water

Salt and pepper
Steps
Place the edamame in a bowl and thaw at room temperature.
Rinse the quinoa thoroughly under cold water until the foam disappears.
In a pot, bring the water and quinoa to a boil.
Reduce heat and let simmer for 15 minutes or until the quinoa has completely absorbed the water. Transfer to a salad bowl.
In a bowl, combine all the dressing ingredients and mix well.
Add the remaining ingredients to the salad bowl and pour in the dressing. Stir well. Adjust the seasoning and enjoy!
Recipe published on August 19, 2018