Salmon, coconut milk & yogurt curry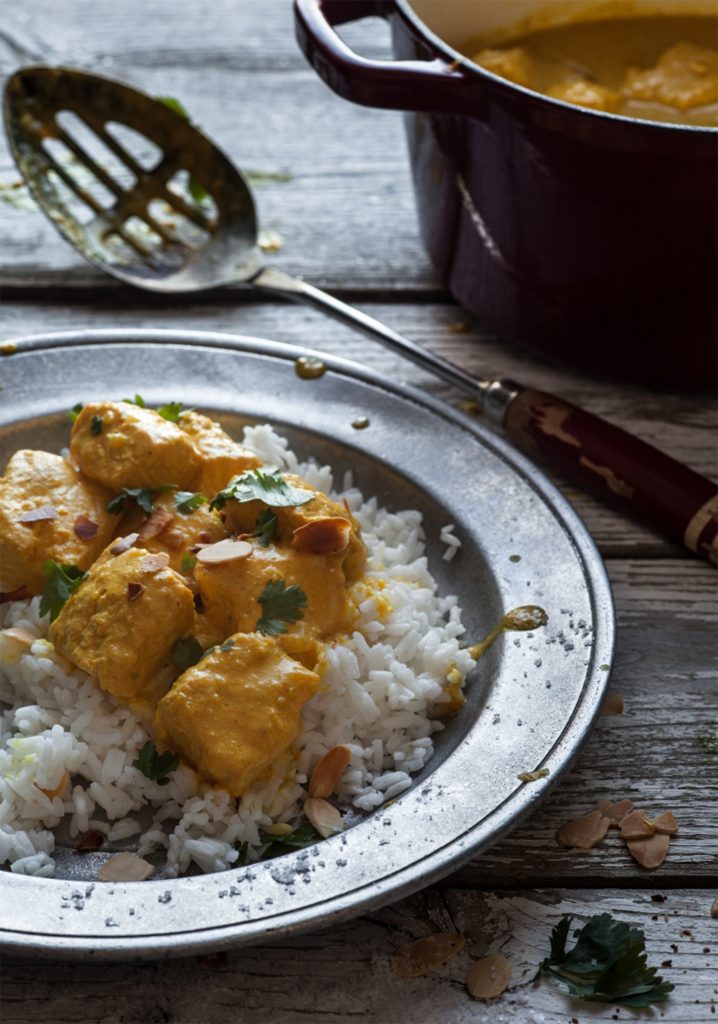 I like Indian food for its delicious, healthy, fragrant, and diverse plates as well as for its saucy dishes, made from the distinctive spice mix we call "curry".
Here's a salmon curry recipe that everyone will enjoy, including people who aren't big fish fans and kids who turn their noses up at anything that comes from the sea (and isn't fried). You can replace the salmon with white fish or even large shrimp.
I threw in some cilantro to add freshness, and added slivered almonds for some crunch, which I toasted in the pan until they were golden and fragrant.
Serves

Serves 6

Prep time

10 min

Cook time

25 min

Timeout

-
Freezing

Ne se congèle pas.
Ingredients
2.2 lb salmon, cut into chunks

Replacement options

or other fish of your choice

Fresh cilantro leaves

Toasted almonds, to taste

Olive oil

Freshly ground salt and pepper
For the coconut & yogurt sauce
1 can coconut milk

1 tomato, diced

1 large onion, roughly chopped

2 tablespoons butter

2 cloves garlic, minced

1/2 cup plain yogurt

1 tablespoon fresh ginger, grated

Replacement options

or 1 tsp ground ginger

2 teaspoons turmeric

1 tablespoon garam masala

1 teaspoon cumin

1 teaspoon red pepper flakes
Steps
In a pan, cook the onion and spices for 10 minutes. Add the garlic and cook for several more minutes.
Transfer the mixture to a stand mixer bowl and add the yogurt. Blend until the texture resembles a creamy paste.
Pour the paste, coconut milk, and tomato into a pot. Season generously and bring to a boil.
Add the salmon chunks and simmer for 15–20 minutes.
Serve with basmati rice, toasted almonds, and fresh cilantro.
Recipe published on August 19, 2018