Salmon tartare with strawberries & spicy mayonnaise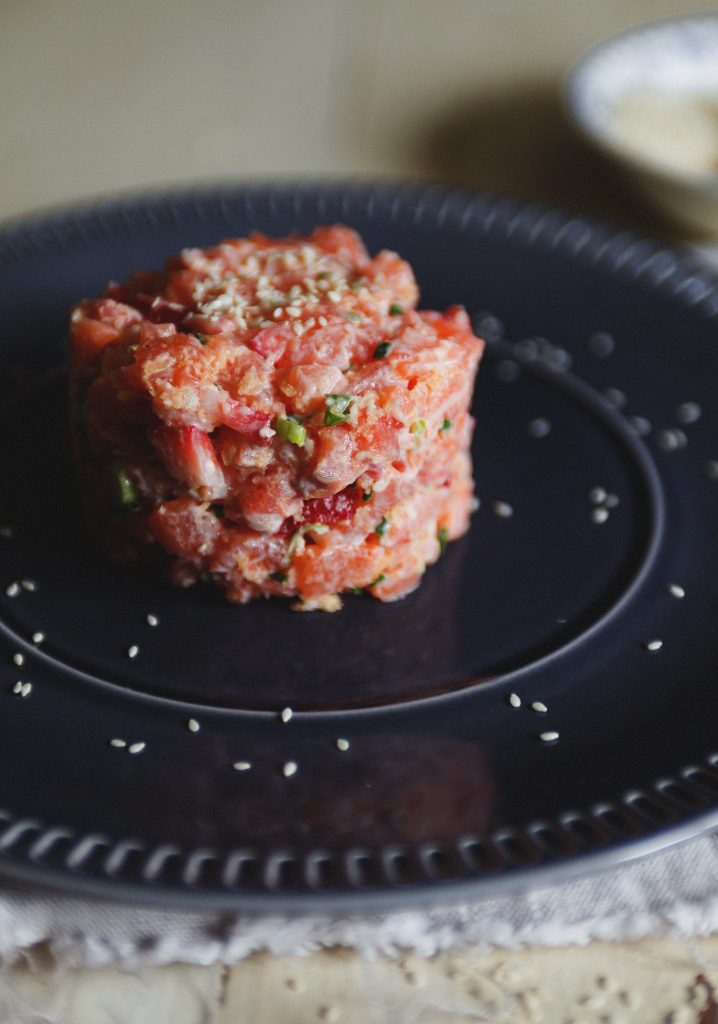 How I love tartare! Whether made with tuna, salmon, beef, or duck, I'm absolutely crazy about it..
For the longest time, I thought it was the kind of dish that would always taste better at a restaurant, but I couldn't have been more wrong. When I make it at home, I can be sure that the ingredients are fresh and I can add as much or as little of the various trimmings as I like. My man likes his spicy, and I prefer it creamy. It's easy to please everyone by using the same ingredients in different quantities. I don't hold back with the Tabasco for Alex's and am heavy-handed with the Japanese mayonnaise for myself. Everyone gets what they want!
Tartare is a classic dish that can be personalized and reinvented as many times as you can eat it.
It can be eaten with crostini or rolled in rice paper into wraps.
Serves

Serves 2

Prep time

20 min

Cook time

-

Timeout

-
Freezing

Ne se congèle pas.
Ingredients
For the tartare
14 oz freshly caught salmon

1 green onion, chopped

1 tablespoon chives, minced

1-2 large strawberries, diced

1 tablespoon Japanese mayonnaise (*see tip)

1 tablespoon panko breadcrumbs

1 teaspoon sesame seeds

1 teaspoon sriracha (hot sauce)

Dash of lemon juice

Salt and pepper, to taste
For the wrap version
2 rice paper sheets

A few lettuce leaves
Steps
To ensure the salmon stays fresh, take out two bowls (one small, one large). Put several ice cubes in the larger bowl. Place the smaller bowl on the ice cubes, so it stays cold. This gives you time to make the tartare without worrying about keeping everything fresh.
Dice the salmon and transfer to the smaller, chilled bowl.
Add the rest of the tartare ingredients without stirring. Once all the ingredients have been added, mix well. By only stirring once and handling the mixture minimally, the diced salmon will keep its shape and texture.
Adjust the seasoning. Follow the final steps if making the wrap version and serve.
For the wrap version
Soak a rice paper wrap in water until it softens. Transfer onto a plate and place a few lettuce leaves and half the salmon tartare in the centre. Roll. Repeat for the second wrap.
Tips & tricks
These quantities are just suggestions. Have fun playing with the amounts, to suit your tastes.
*Here's a list of where I buy my Japanese mayonnaise (there are probably a ton of other places, too).
– La Mer: 1840 René-Lévesque Boulevard East, Montreal
– Milano Fruiterie: 6862 St-Laurent Boulevard, Montreal
– La Dépense: Jean-Talon Market, Montreal
– Aliments Toyo: 2860 Chemin Ste-Foy, Quebec City
Recipe published on August 19, 2018