Creamy roasted cauliflower soup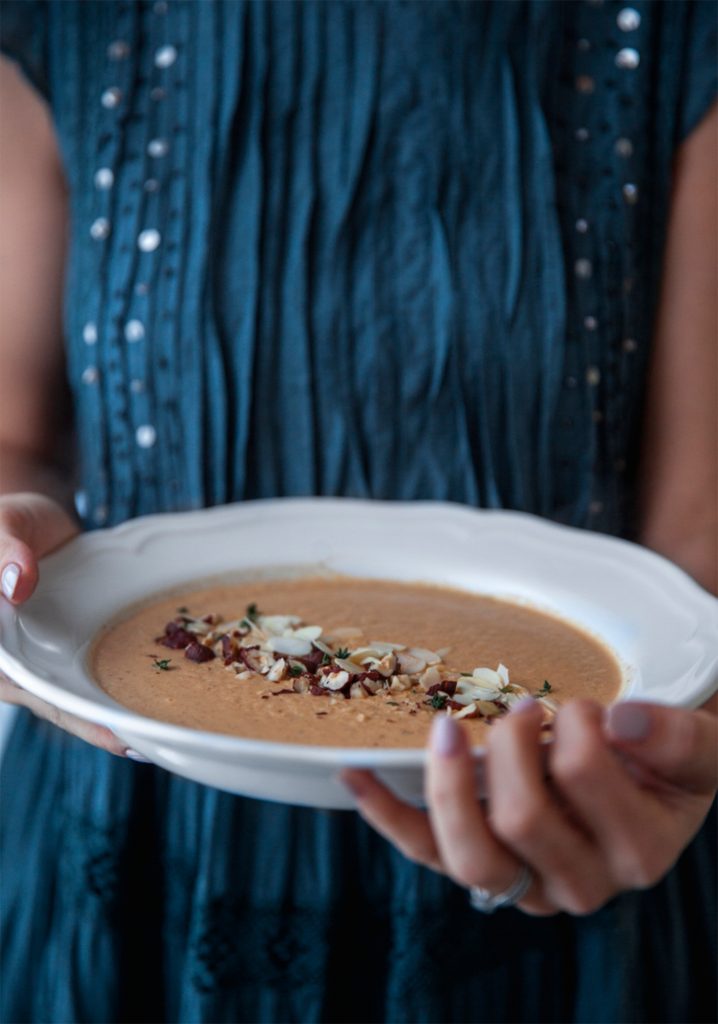 After a vacation that was far from relaxing, getting back into a routine was ironically what relaxed me the most, despite the major renovation work going on in my house/kitchen (which I will be very excited to show off when it's all done!). It's proof that sometimes we feel the urge to escape in order to relax, but, really, everything we need is already within reach. Anyway…
I woke up with a huge craving for cauliflower (go ahead and judge me) and a desire to share a new soup recipe with you. So, I made a cream of roasted cauliflower soup using spices (not curry, though—I think we're all getting a little sick of curried soups) and cream, because, well, cream is comforting.
Serves

Serves 6

Prep time

20 min

Cook time

45 min

Timeout

-
Ingredients
3 tablespoons vegetable oil

Replacement options

or canola, sunflower, peanut, etc.

1/2 teaspoon cumin

2 teaspoons smoked paprika

1 teaspoon fleur de sel (or sea salt)

Pinch of hot pepper flakes (optional)

2 heads cauliflower, cut into florets

2 tablespoons butter

1 yellow onion, chopped

2 cloves garlic, minced

Salt and pepper, to taste

Leaves of 1 thyme sprig

4 cups chicken broth

1 cup cooking cream
Steps
Preheat the oven to 425˚F.
In a large bowl, combine the oil, cumin, paprika, fleur de sel and hot pepper flakes. Add the cauliflower, mix well, and transfer onto a baking sheet. Bake for 25–30 minutes, stirring frequently.
In a pot, heat the butter over medium heat and cook the onion for 8 minutes or until soft. Add garlic, then season.
Add the cauliflower, thyme leaves, and chicken broth, and bring to a boil.
Simmer for 5 minutes, add the cream, and blend until smooth in a food processor.
Adjust seasoning and serve with topping of your choice.
Tips & tricks
You can freeze the soup BEFORE adding the cream, and add the cream after the soup is warm.
TOPPING IDEAS (OPTIONAL)
Chopped nuts
Slivered almonds
Shrimp
Dash of hazelnut oil
Recipe published on August 19, 2018