Breakfast pops (strawberry, nut butter, yogurt & granola)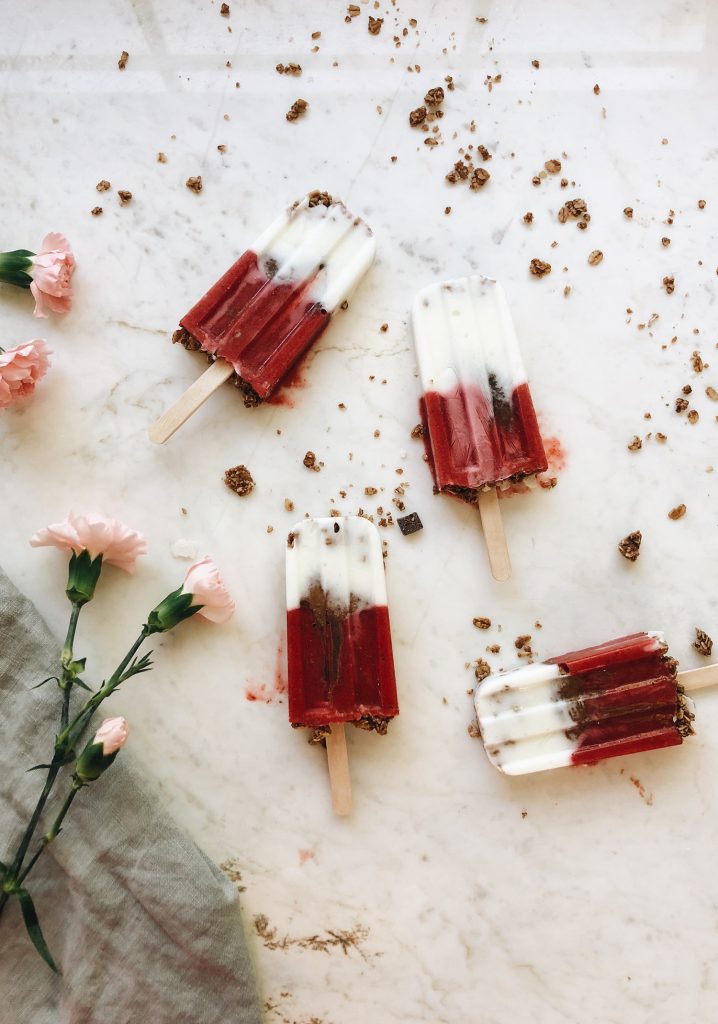 My daughter loves popsicles, and the more I made some, the more I started to like them as well. When summer started out, there was a time when she didn't want anything to do with eating breakfast; it was an impossible task! So I came up with the idea of making a breakfast popsicle. This heatwave was the perfect opportunity to introduce them; it was a success!
It's a bit work to put together. I was inspired by the many impossible recipes on Pinterest, and I've transformed them to make them possible. Check out the video here!
Particularities
Serves

Makes 6 to 8 popsicles

Prep time

10 mins

Cook time

25 min

Timeout

4 hours minimum
Ingredients
1 1/2 cup of strawberries (or your preferred small fruits)

1 banana

1/3 cup of nut butter (your preference)

1 tablespoon of cocoa powder

1/2 cup of granola, homemade or store-bought

1 cup of vanilla yogurt
Steps
Blend the strawberries and banana into a puree with a handheld mixer.
Mix the nut butter and cocoa powder in a bowl, then set aside.
Add the granola, yogurt, nut butter as well as the banana and strawberry puree into popsicle moulds, then finish them off with a bit of granola again.
Freeze them for a minimum of 4 hours, or until properly frozen.
Remove from the moulds and serve.
Recipe published on August 19, 2018