Raw chewy bars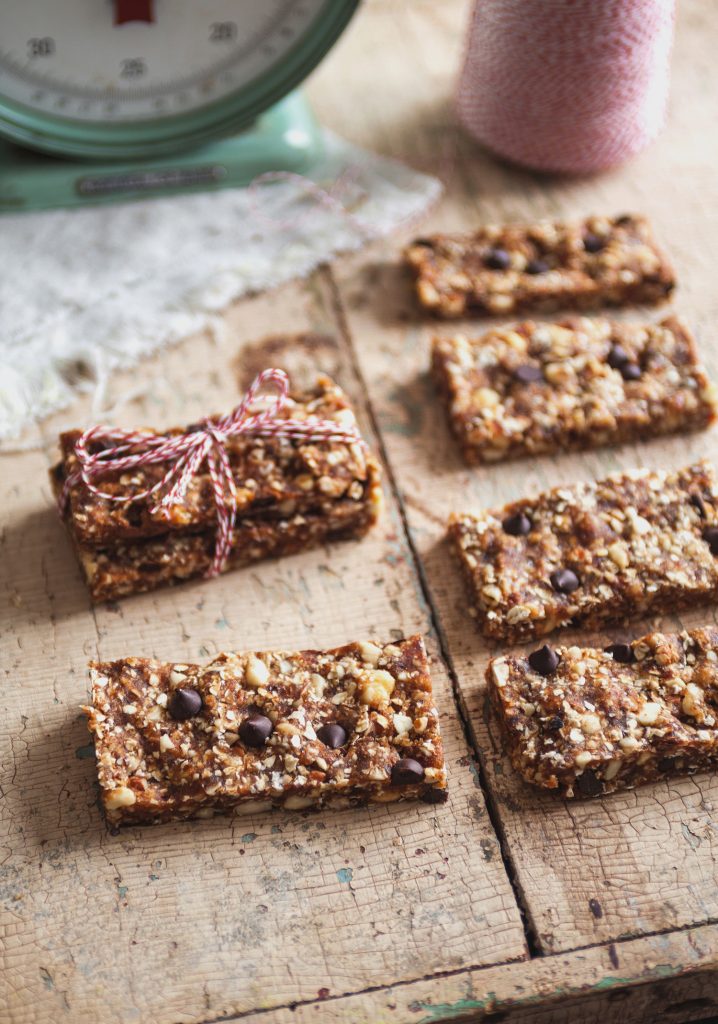 I often have the munchies in the afternoon or at night and have no idea what to snack on. I used to grab the first thing I could get my hands on. Most of the time, it was something unhealthy. That's why I started to prepare healthy, sweet chewy bars. They can be made ahead of time and stored in the refrigerator for days.
This recipe is pretty versatile: sometimes, I replace the pecans with cashews, Brazil nuts, or pistachios. Other times, I'll replace the chocolate with dried fruit. Basically, these raw bars are a guilt-free treat (i.e.: pure bliss in a bar!).
Serves

Yields 12 bars

Prep time

10 min

Cook time

-

Timeout

1 hour
Ingredients
16 large Medjool dates, pitted (quantity may vary depending on size)

1/2 cup whole blanched almonds

1/2 cup pecans

1 cup rolled oats

1/4 cup 70% dark chocolate chips

1 tablespoon organic peanut butter

Replacement options

or different nut butter of your choice

Pinch of salt
Steps
Line an 8-inch x 8-inch baking dish with parchment paper. Baking dish size is important because the bars need to be thick enough to hold together when you remove them.
Pulse the dates, almonds and pecans in a food processor until the nuts are crushed into small pieces.
Add the remaining ingredients and pulse some more, until the mixture holds together when you press it in your hands. If it does not stick together, add more dates.
Put the mixture in the baking dish. Wet your fingers and press it down firmly. Refrigerate for an hour.
Remove from the dish and cut into bars of desired size.
Tips & tricks
It's important to use Medjool dates. They are very different from the ones you usually find in grocery stores: they're juicier and make the mixture hold together better.
Can be stored in the refrigerator for days.
Recipe published on August 19, 2018