Chocolate & almond Baklava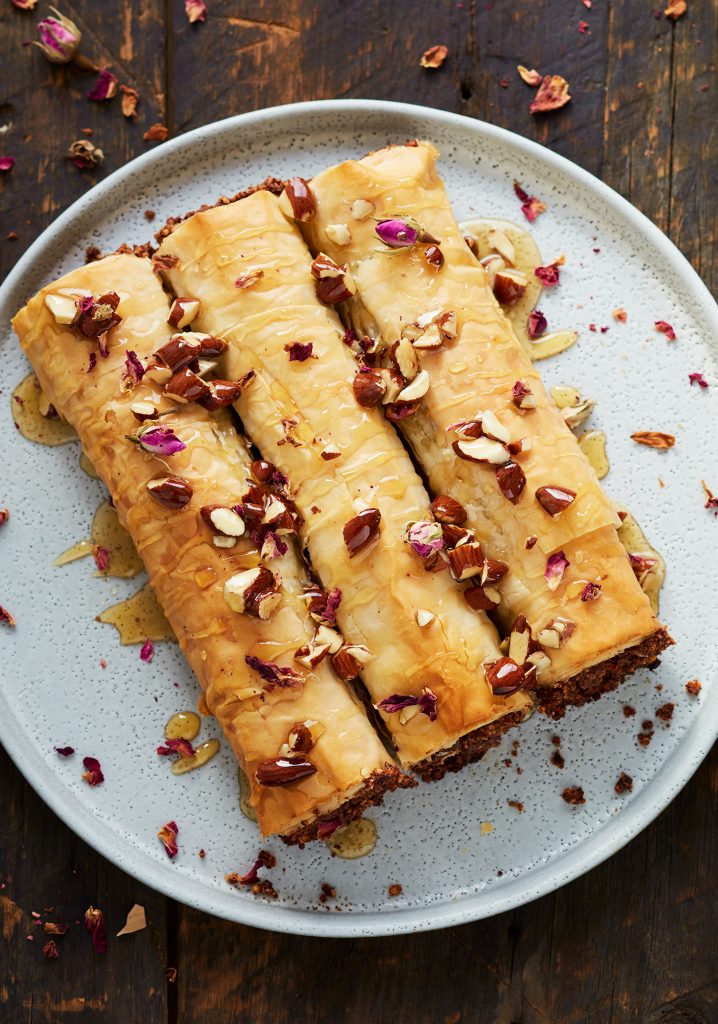 Photo credit: Dana Dorobantu
This dessert is crunchy and oh-so yummy, it's even one of my favourites. You can almost taste the Middle East with every bite. Haha!
Particularities
Serves

12

Prep time

30 mins

Cook time

15 - 20 mins

Timeout

30 mins
Ingredients
Baklava
1 1/2 cup of raw almonds

1/4 cup of honey

1/4 teaspoon of ground cinnamon

1 egg yolk

1 teaspoon of vanilla extract

1 teaspoon of rose water (optional)

6 tablespoons of butter, room temperature

200g of dark chocolate, chopped

8 Phyllo pastry sheets

1/2 cup of melted butter
Garnish
A drizzle of honey

A few chopped almonds

A few rosebuds
Steps
Preheat the oven to 350°F and place the rack at the centre of it. Line a baking sheet with parchment paper, then set aside.
Blend the almonds and honey, in a blender along with the cinnamon, egg yolk, vanilla, rose water and butter until a dough forms. Add the dark chocolate and blend again until it is chopped finely. Set aside.
Using a clean work surface, line up 2 phyllo pastry sheets vertically above one another while overlapping them about an inch wide. Then baste with melted butter. Keep doing this with all the phyllo sheets.
Garnish the top of the phyllo sheet with the almond-chocolate mix then roll them up tightly. Cut that roll into 3 equal parts, then lay onto the baking sheet side-by-side. Baste with butter then cook in the oven for 15 to 20 minutes or until the dough is golden.
Serve topped with honey, chopped almonds and rosebuds.
Tips & tricks
Cannot be frozen. Keeps for 2 days at room temperature or for 5 days in the refrigerator.
Recipe published on August 19, 2018