Fossilized Werewolf Saliva (Homemade Sponge Taffy)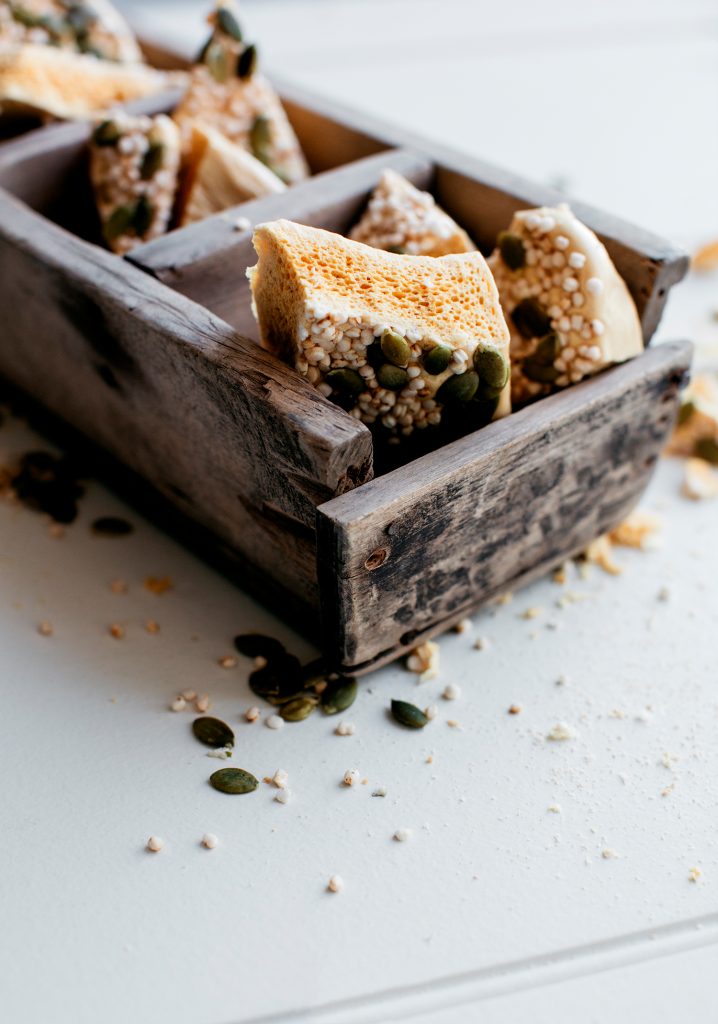 Watch the video
I recommend you watch the video we made for this recipe before taking this on. It will help visualizing all the steps at once.
Plus, you'll get to see my extraordinary costume. Alex was extremely jealous of my mustache and unibrow.
You will need a candy thermometer for this recipe.
Serves

20 - 25 pieces

Prep time

10 mins

Cook time

25 mins

Timeout

1 hour
Ingredients
1/4 cup of quinoa puffs

Replacement options

pop-corn, pistachios, peanuts, dried apricot cubes

1/4 cup of sunflower seeds

Replacement options

your preferred nut selection
Caramel
1 tablespoon of baking soda

1/2 cup of water

1 cup of sugar

1 cup of corn syrup
Steps
Line a mould with parchment paper, then pour the quinoa and sunflower seeds at the bottom. Set aside.
Sieve the baking soda to remove all lumps. Set aside.
Pour all the caramel ingredients into a pot, except for the baking soda and cook over medium heat for 15 minutes, or until the temperature reaches 300 or 305 °F on the thermometer.
Remove from heat, add the baking soda and whisk lightly.
Pour in the mould right away, then watch it puff up, like magic.
Let cool completely then break into pieces.
Recipe published on August 19, 2018