Ginger steamed spinach & grilled lemon cheese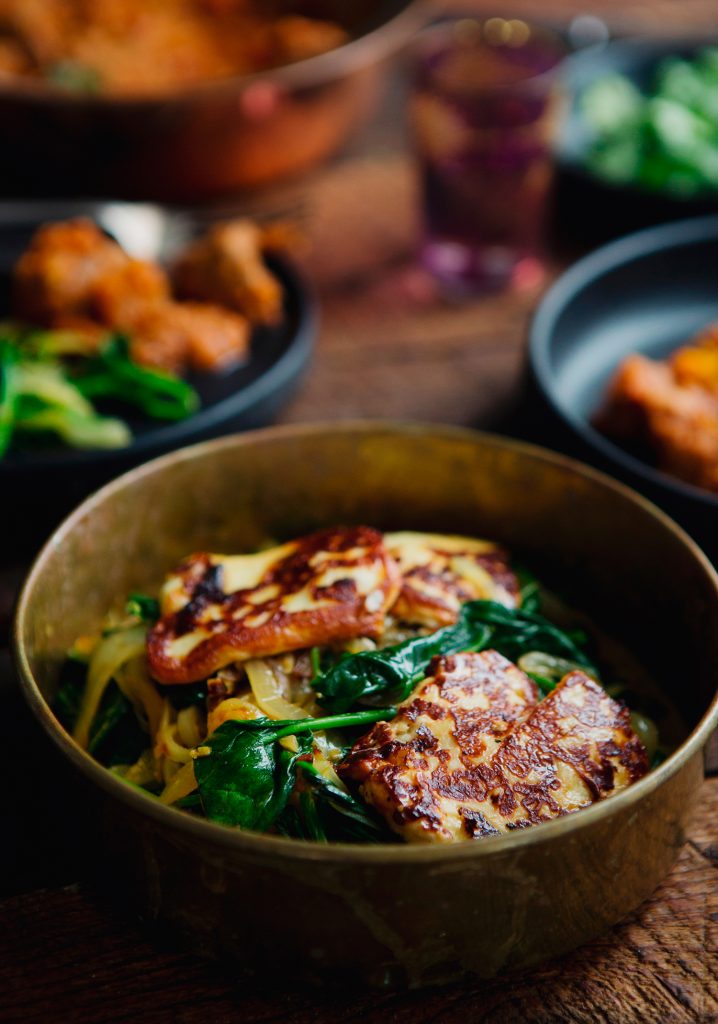 This recipe makes the perfect appetizer or can easily be served as a side to many Indian meals. I chose to cut up the ingredients in bigger pieces than the original version of this recipe, adding texture to the plate.
photo credit: Cindy Boyce
Serves

4

Prep time

20 mins

Cook time

25 mins

Timeout

10 mins
Ingredients
Spinach
2 tablespoons of olive oil

1 onion, minced

1 garlic clove, chopped

1 teaspoon of fresh ginger, chopped

1 teaspoon of ground turmeric

1/4 teaspoon of crushed pepper

6 cups of baby spinach

Salt & pepper, as preferred

1/2 cup of plain yogurt
Grilled Cheese pieces
2 tablespoons of olive oil

1 piece of grilled cheese

1 lemon's juice
Steps
Heat the olive oil over medium heat in a large non-stick pan then brown the onion, garlic, ginger and spinach for 5 minutes. Add the spinach, season and then allow wilting. Remove from heat then set aside.
Heat the olive oil over medium-high heat in a second non-stick pan, then grill the cheese on each side. Deglaze with the lemon juice, then set aside.
Once you are ready to serve, add the yogurt to the spinach mix, then add to a serving plate. Top with the grilled cheese pieces and drizzle with the cooking juices.
Tips & tricks
Cannot be frozen. Keeps for 5 days in the fridge.
Recipe published on August 19, 2018