Mushroom, chickpea balls & creamy mustard sauce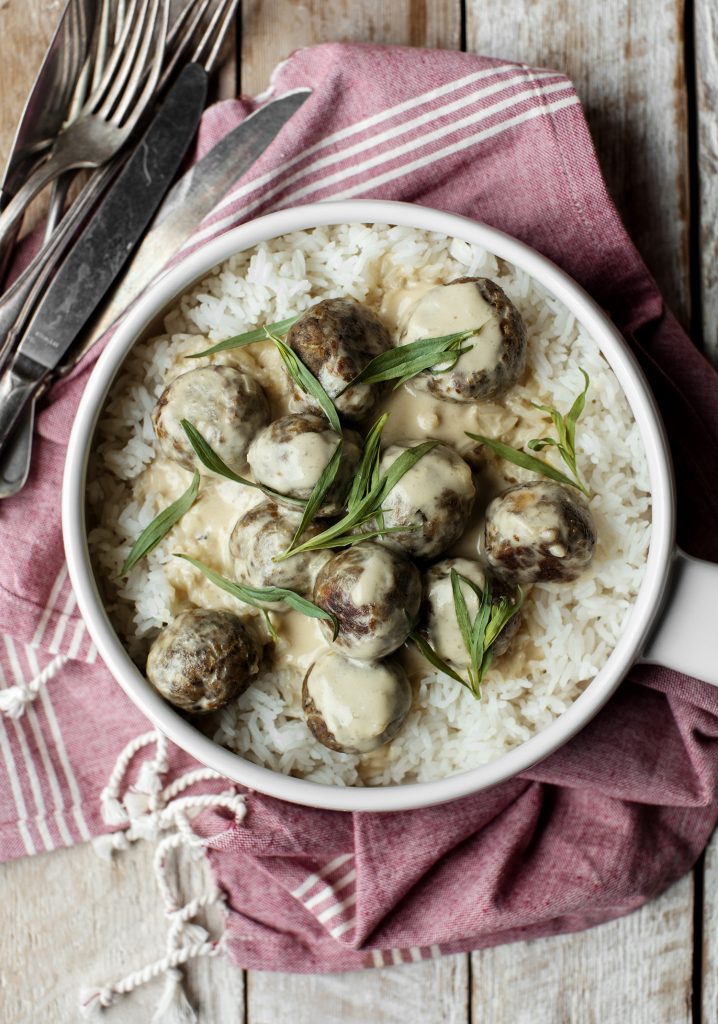 Particularities
Serves

6

Prep time

15 mins

Cook time

45 mins

Timeout

1 hour
Ingredients
2 cans (454 g) of white mushrooms

1 onion, minced

1 garlic clove, chopped

Salt & pepper, as preferred

1 tablespoon of olive oil

1 can (540 ml) of chickpeas, rinsed and strained

2 tarragon twigs, leafs only

1 tablespoon of Dijon mustard

3/4 cup of plain breadcrumbs

1 egg
Sauce
2 teaspoons of corn starch+ 2 tbsps of water

1 garlic clove, chopped

1 1/2 cup of vegetable broth

2 tablespoons of honey

1/4 cup of Dijon mustard

3/4 cup of cooking cream
Steps
Blend the mushrooms in a blender with the onion and garlic. Season.
Heat the olive oil over medium heat in a pan, then brown the mix for 15 minutes.
Blend the chick peas in the blender, until you get a grainy texture.
Combine the chick peas, mushrooms and the remaining ingredients in a large bowl then season if needed.
Preheat the oven to 400°F and place the rack at the centre of it. Line a baking sheet with parchment paper.
Shape 1" balls with hands slightly wet, and line them up on the baking sheet. Cook for 15 minutes then set aside.
Dilute the cornstarch in a bowl. Set aside.
Brown the garlic and remaining sauce ingredients in a pan over medium-low heat. Simmer for 8 minutes before adding the balls, then continue cooking for 2 minutes.
Recipe published on August 19, 2018