Chocolate & Maple cream cake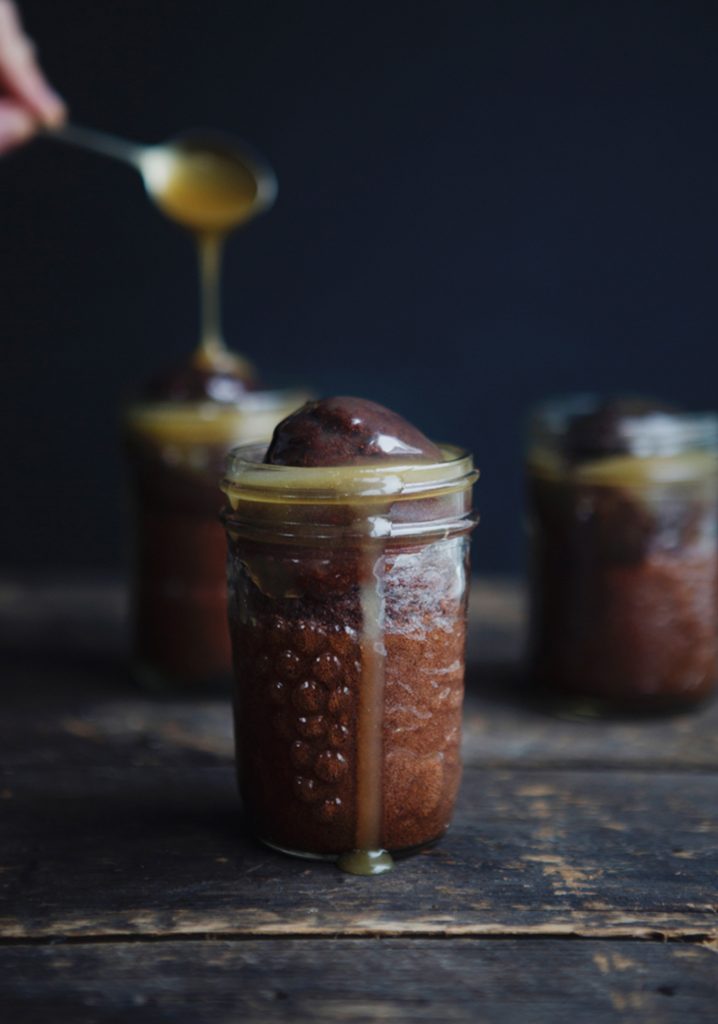 Photo credit: Cindy Boyce
Here is a dessert that can be served cold or hot, prepared in individual portions. Which makes it perfect for lunch bags, since the mason jars are easily carried around.
Particularities
Serves

4 gâteaux

Prep time

20 min

Cook time

20 min

Timeout

30 mins
Ingredients
Chocolate cake
1 cup of all-purpose flour

1/3 cup of cocoa powder

1 teaspoon of baking powder

1/2 teaspoon of baking powder

1/4 teaspoon of salt

2 eggs

1/2 cup of brown sugar

1/4 cup of olive oil

1 teaspoon of vanilla extract

3/4 cup of milk
Maple cream
1/3 cup of cooking cream, 35%

3/4 cup of maple syrup

1 tablespoon of corn starch, diluted in 2 tbsp of water
Steps
Preheat the oven at 350°F and place the rack at the center of the oven. Grease up 4 250 ml mason jars then set aside.
In a bowl, add the flour, cocoa powder, baking powder, baking soda and salt, then set aside.
In another bowl, whisk the eggs with brown sugar then add the vegetable oil and vanilla extract. Whisk the mix into the dry ingredients while alternating with milk. Mix until the texture is smooth.
Pour the mix into the mason jars and bake for 20 minutes.
During this time, pour the cream and maple syrup into a pot and bring to a boil. Add the corn starch then whisk until the mix thickens.
With a wooden spoon, poke small holes atop the cakes and pour the maple cream into them.
Tips & tricks
– Se congèle sans la crème.
Recipe published on August 19, 2018